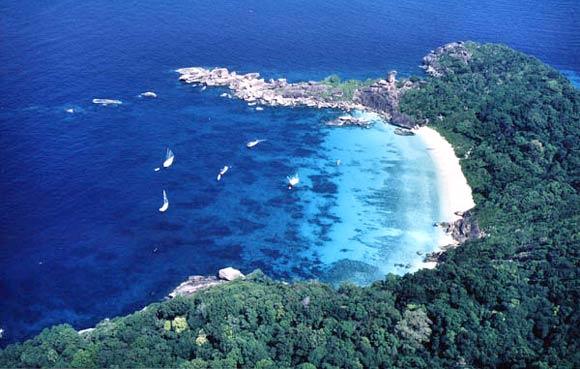 Similan Islands : A group of 9 small islands 50 kms. off the west coast of Phang-Nga in the Andaman Sea. It can be reached in about 10 hrs by boat from Phuket or 4 hrs from Thap Lamu Port or Takua Pa in Phang-nga.
The national-park-on-sea off Phang-Nga, Similan is famous among tourist, both domestic and foreign, for its uncontaminated water and abundant marine life and as a place for angling and scuba diving.
Programes
Time
Itinerary

06.00-07.00am.

Pick up from Phuket and transfer to Tap Lamu Pier by Van.

08.30 am.

Depart from the pier to Similan Marine National Park.

10.00 am.

Arrive at Ba-Ngu Island (Island no.9) and snorkelling in the crystal clear blue sea with the colourful marine life.

11.30 am.

Lunch with Thai food set menu, your leisure at Similan Island (Island no.8).
Relaxing, sunbath on the powder white sand beach.

13.00 pm.

Snorkelling with fantastic underwater world at Payu Island (Island no.7) and enjoy your time for swimming, snorkelling or relaxing on Miang Island (Island no.4)

15.00 pm.

Depart from Similan to the pier and transfer back to the hotel.