Phuket Fantasea Show
Show's time : 20.40 hrs

Phuket FantaSea, a one-of-a-kind cultural theme complex offers the ultimate in night-time entertainment on the tropical resort island of Phuket. Created a cost of over 3,300 million baht, Phuket FantaSea adds a whole new dimension to theme park entertainment, showcasing the beauty and charm of the Kingdom and its exotic culture and enriching ancient Thai traditions, legends and myths with the magic of cutting-edge technology and special effects.
Program & Itinerary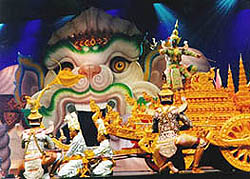 At the heart of Phuket FantaSea is the magnificent Palace of the Elephants, a state-of-the-art theatre constructed in the Sukhothai architectural style.The front fa?ade is adorned with statues of elephants. Fantasy of a Kingdom, a spellbinding show that combines culture and illusion is performed at the theatre nightly. The theatre offers superb acoustics and seats 3,000 persons.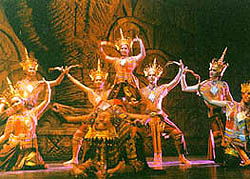 FANTASY OF A KINGDOM
Inside the palace, transcend time and space. The Kamala Prince whisks you through the Kingdom's regions, from the Forest of the Kinnarees to the Land of the Elephants. The Kamala Prince paints wondrous pictures: of a majestic elephant battle, emblazoned with explosions and light; of an aerial ballet, full of artistry and amazement; and a carnival of 30 elephants. In the end, the Heavenly Elephant just flies away...and vanishes.
As the story unfolds, the statue of the Prince of Kamala stands in the palace court frozen in stone. It is said that when the people of Kamala gather around this statue and whisper the magic word, "Kamala", the statue will be awakened. Advanced reservations are recommended.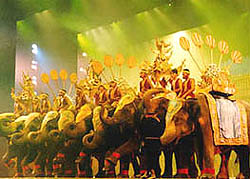 IYARA SPECTACULAR
The Iyara Spectacular is another of Phuket Fantasea's Songkran highlights. The outdoor light, sound and dance spectacle celebrates the return of the Prince of Kamala. Featuring laser, giant projection, animatronics, special effects, inflatables, parade, and traditional fireworks, it is only performed on special occasions.