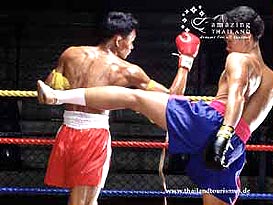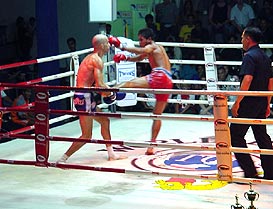 Thai Boxing originated from the days of warfare between Myanmar and Thailand in the 15th Century, and it is said that this form of fighting was used to settle matters outside the battlefield. Legends has it that Nai Khanom Tom, Thailandís first famous boxer, won his freedom from the Burmese by defeating a dozen of his enemies in a fight held before the Burmese court.

Muay Thai became an integral part of military training for all Thai soldiers in the 16th Century. And the then King Naresuan, was further promoted as a national sport in the 18th Century by King Phra Chao Seua, who enjoyed taking part incognito in many matches in the early part of his reign.
Today Thai Boxing is still incorporated into Thai military training and has been adopted by elite military units in other armed forces. This form of unarmed combat is slowly being recognized as one of the ultimate hand to hand combat forms by many martial art exponents.There are over 60,000 professional Thai boxers in Thailand and the sport is very popular with the local population. There are dozens of matches held daily, in addition to the presentations put up for tourists as an after dinner program.
Tour price
Option
Adult

Ringside (VIP)

1500

Regular seat

1300
Tour Includes:
Two way transfer by minibus