Samui Hotels
Hotels in Samui, Thailand - a guide to Samui hotels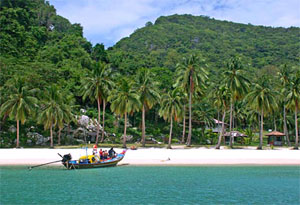 Samui is Thailand's third largest island. It has grown over the years into a sophisticated international resort, yet it still retains its island magic.

Areas like Bophut, Big Buddha Beach and Menam offer a tranquil retreat, but if you prefer more action, head for Lamai or Chaweng ? where you'll find Samui's bustling nightlife and shopping areas.
Many hotels and resorts have direct beachfront access and restaurants overlooking the sea ? the ultimate beach holiday.
Samui hotels and resorts reservation guide - the definitive guide toSamui accommodation. The Samui hotels and resorts guide provides a brief summary, customer ratings and reviews for hotels or resorts. For a quick summary see the list of hotels and resorts in Samui, For detailed hotel information or to reserve a hotel or resort in Samui, please select a hotel.