Phi Phi Hotels
Hotels in Phi Phi Island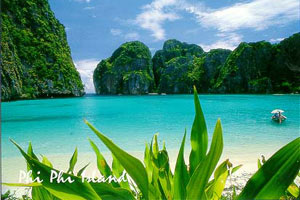 This is a magical place with a wonderfully winding road lined with souvenir stands and restaurants of all descriptions.
Snorkel or dive among the many shallow, sheltered coral gardens that surround the island and you will be amazed by the brilliance of it all.Phi Phi hotels and resorts reservation guide - the definitive guide to Phi Phi accommodation.
The Phi Phi hotels and resorts guide provides a brief summary, customer ratings and reviews for hotels or resorts. For a quick summary see the list of hotels and resorts in Phi Phi . For detailed hotel information or to reserve a hotel or resort in Phi Phi , please select a hotel.