Khaolak Hotels
Hotels in Khaolak, Thailand - a guide to Khaolak hotels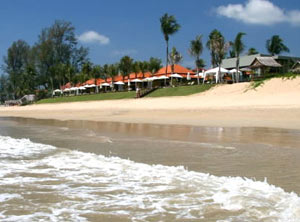 Welcome to Khaolak Beach, Thailand - Accommodation Guide in Khaolak Beach Khaolak Beach is on the Andaman Sea just 80 Kilometers North from Phuket International Airport. It locates on Km 56-57 heading to Takuapa town.
There are many beaches all the way from Phuket to Takuapa such as Thai Muang Beach, Bangnieng Beach, Khaolak Beach and Bangsak Beach. But Khaolak beach is the most popular beach for many tourists because the beach is clean and long with golden sand where most of the resorts are located.
Khao Lak Hotels provide cozy and comfortable, both budget and luxurious accommodation, perfect for leisure as well as business travelers. All Khao Lak Hotels come with a wide assortment of amenities and facilities and you can browse through the descriptions on this page to get a better idea about the Khao Lak hotels, location, rates, rooms and other general information.