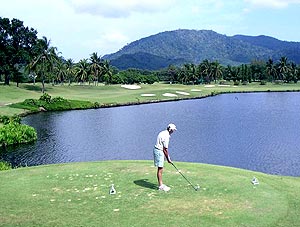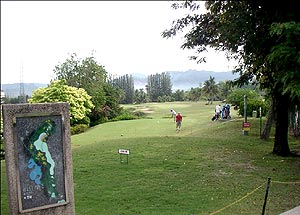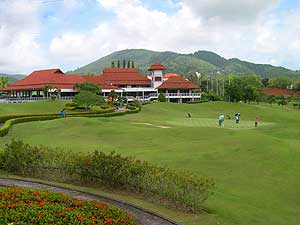 OLD COURSE
Layout

NEW COURSE
Layout
Established in 1989, and built over a reclaimed tin mine, Phuket Country Club provides a challenge for golfers of all levels. Host to the Ladies Kosaido Thailand Open 1992 and Prince Bernard Cup tournaments, the club offers two courses with 27 holes. Voted "Best Course in Thailand" by Asian Golf Magazine 2001 and "Best Holes Par-Five" by Asian Golf Magazine 2001 (Hole #10.)
This is one of the five most beautiful golf courses in Thailand, with 27 holes, 72+37 par , Old Course: 18 holes , Country Club Course: 9 holes (Yardage & Par Rating calculated as 18 holes) Total Yardage 6,484 + 3,575
The course has three distinct characters in some parts it's hilly, in others laced with waterways, and in others it has lush green fairways.
Golfers need to be good, and well-prepared, to perform well on this course.But whatever the score, there's no doubt at all that golfers will enjoy the lush green fairway.
There are two courses with 27 holes in total.
Old Course: 18 holes
Country Club Course: 9 holes
(Yardage & Par Rating calculated as 18 holes)
The OLD COURSE
provides a strenuous 18-hole, 6483 yards, par 72 golf game. Hole #10, 557 yards par 5, is one of the most unusual holes you will find anywhere; a dog-leg right that snakes around an enormous lake and is reachable in one!
Set in a valley, with fairways meandering through the hills, the course offers six holes in undulating hills, six holes on the level and six holes through landscaped forest. Although high handicappers have the best round of their lives and keep coming back for more, the low handicap golfers still find the course quite a challenge.
The COUNTRY CLUB COURSE
is a challenging 3575 yards (championship tee) par 37, 9-hole course, particularly suitable for the low handicap golfer. The picturesque beauty of the scenery and layout, somewhat softens the difficulty of the course. Watch out for those wayward shots; all are penalized either landing in water or out-of-bounds. However, with five tee-off boxes at each hole, you have a choice of making it less of an ordeal. The distinctive feature is water which comes into play 95% of the time.
(Hint: high handicap golfers, remember to purchase a few dozen second hand balls from the Pro Shop before tee off! You might just need a few!)
The Club house offers panoramic views of the course, lakes and surroundings. In the Club house, a five star restaurant offers International and Thai cuisine. The chef will prepare you the juiciest of steaks (imported fresh from Australia) and delicate pastries, or if you prefer, Sukandra will make you a fiery tom-yum, while there is also Tameko who prepares mouth-watering sushi!

Pro Shop is run by Michael Glass, the resident pro from the US and his beautiful wife, Orawan. Mike hits a mean ball (John Daley watch out!).
He also provides golf clinics- guaranteed to rectify those dreaded slices! He has an extensive range of golfing equipment from gold tees to monogrammed balls, clubs, big berthas, bags, golf wear and golfing memorabilia. He will sell you anything, even Thai lucky charms- to make you win those crucial golfing bets! A visit to his pro shop is a must!