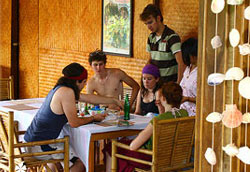 Bar & restaurant Laundry service
Motorcycle & Car rental Internet Access
.
Tourist info.
- One day tours to Hong island
- One day tours to PP.island (maya bay, monkey bay, phi phi don, phi phi lay, Viking cave, Bamboo island)
- One day tours to4island(chicken island, tub island, poda island, pranang beach)
- Elephant trekking, Canoeing, Fishing, Rock climbing, ect.

Koh Kwang Restaurant... Our restaurant and staff caters for every taste with a wide range of food from Thai specialties to many western dishes. Our food is available all day.

A variety of activities can be arranged from Phi Phi Island, 4 Islands (Chicken Island, Tup Island, Poda Island, Pranang Beach) Hong Island, Canoeing, Horse Riding, Elephant Treking, Also Fishing.
.